Kit List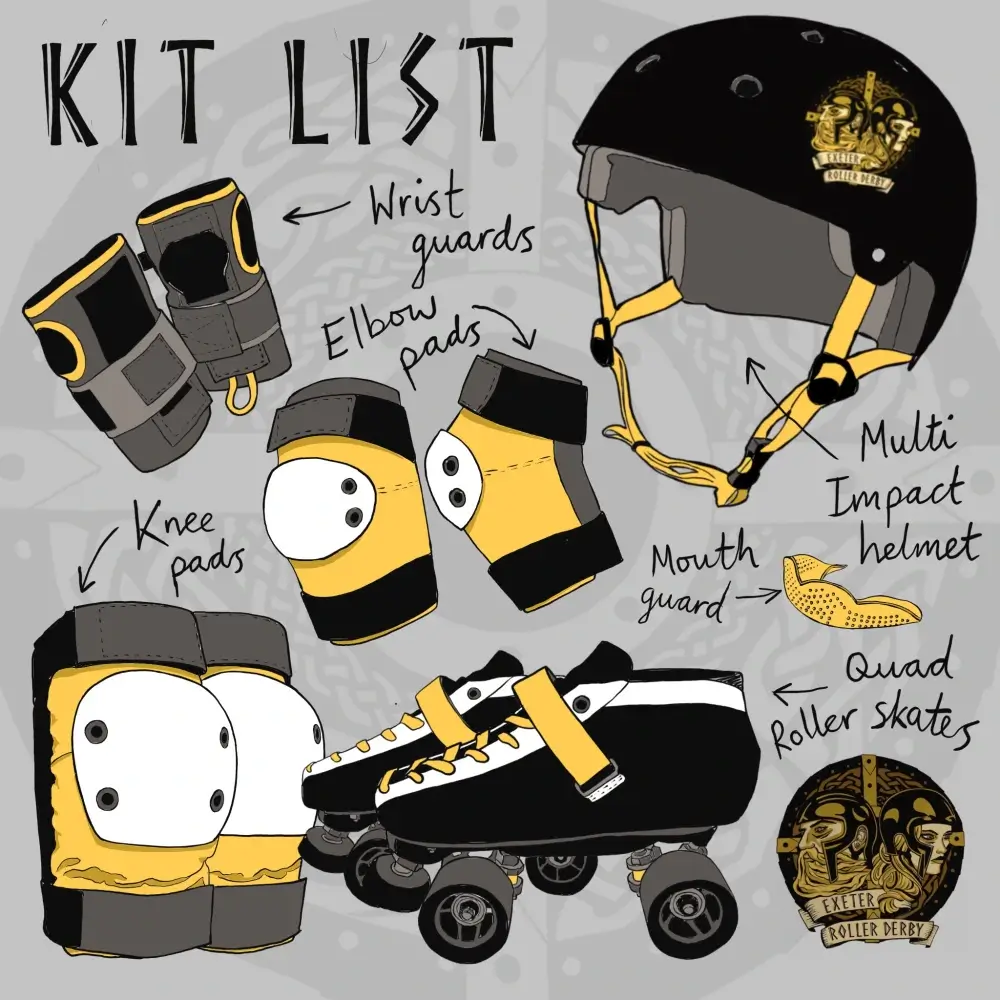 Limited hire kit is available. This is kindly loaned to us by Momma Trucker Skates, so we ask kindly, if your require this service to let us know in advance to save disapointment on the day.
Helmet
COMPULSORY as per WFTDA and our XRD safety standards
First thing's first: The most important part of your safety gear is your helmet. Cheap knee pads, elbow pads and wrist guards can lead to broken bones, but a budget or badly fitting helmet can lead to much worse such as concussions and fractured skulls You break a bone and worst case scenario is you will be off skates for a few months, you do a number on your bonce and I don't think I need to tell you what can happen. So let's get this first, important piece of kit right!
You need to make sure your new helmet can take multiple impacts, most skate-certified helmets are, but it's best to double check and not making the mistake buying a one-hit-wonder (for example ones just for cycling or speed-racing helmets) and suitable for skating. Duel-certified ones by S1 are the most popular catering for both juniors and adults, with other brands like Triple 8 and Pro-tech just as popular.
A good helmet should cover all of your forehead (I would say almost down to your eyebrows), give plenty of buffer zone near your temples, and come down low enough at the back of your head to cover the base your skull. We recommend going to a shop and trying on first to make sure you have the perfect fit, the last thing you want is for the helmet to slip during a fall causing you an avoidable injury.
Skates
Generally you want to invest in a pair of skates that are specifically designed for Roller Derby or Speed skating. Some people tend to prefer a pair that is designed for Jam skating. Either way, they need to be suitable for the sport, and therefore we highly recommend the shoe-style skate to the typical boot skate as this will allow your ankles freedom to move how they want and will help with manoeuvrability in games.
Wheels & Toe Stops
There is a huge variety of wheel options available, almost all entry level derby skates will come with something suitable for indoors, but depending on the venues floor, you might find the durometer (number followed by an A) is either too high causing you to slip or too low making you grip more and can fell like hard work trying to move. Speak to fellow skaters and see what they are using as this is all down to personal preference and the indiviuals style of skating, so what might work for them, might not work for you. This can also be said for toe-stops. Everyone has a preference to the size of their toe stops, although most prefer the large Gumballs, but also the height at which they are set at. Roller derby makes great use of the toe-stops so you'll eventually need to invest in something you feel confident walking, running, stopping and jumping on.
Knee Pads
COMPULSORY as per WFTDA rules and our XRD safety standards
Knee pads should be of the hard-shield kind, where you have the main material and padding gasket with a hard plastic cup over the main kneecap area. This is because we tend to use our knees a lot in roller derby, especially knee-sliding, and pads where the knee is covered in soft material will grip the floor and could cause you injury if they make you stop dead when you still have a lot of momentum trying to carry you forward. We love big chunky knee pads as it's like falling on pillows, but make sure you get the right fit, we dont want them slipping off mid knee-slide!
Elbow Pads
COMPULSORY as per WFTDA rules and our XRD safety standards
Whilst your elbows don't tend to hit the floor as much as your knees do in Roller Derby, they still should not be discounted from the list of "things to spend money on". Again, the more you spend, the more you can expect to be protected, but don't forget comfort, too! Wearing pads that are uncomfortable can actually be quite an annoying distraction, and when you are on the track in a bout situation, you can't skate around slowly becoming more annoyed at those elbow pads rubbing your arms raw. There's a good chance that if you like the fit and the comfort of your knee pads, you are going to be similarly impressed with the elbow versions.
Wrist Guards
COMPULSORY as per WFTDA rules and our XRD safety standards
Wrist guards are a pretty important piece of kit. When falling over, we do tend to instinctively put our hands out to try to land or simply to right our balance. If it weren't for wrist guards, I truly believe that snapped wrists and broken hands would be very common in the Roller Derby world. These would also have strong everyday life repurcussions, too. Thankfully, wrist guards are cheaper than elbow pads, and again, you want to invest in a wrist guard that has a hard plastic insert under the wrist joint, flowing to the base of the palm.
Mouth Guards
COMPULSORY as per WFTDA rules and our XRD safety standards
Not something you need right away, but it's always handy to have in your kit bag ready, just incase! You can pick up basic mouth guards, the variety for boxing or martial arts cheaply from high street sports shops. The most favoured brand however for roller derby would be the colourful SiSu range. They have a distinctive shape which allows heat moulding to your upper set of teeth to give a comfortable fit. They have the added advantage of allowing you to drink and talk whilst wearing it, essential in a game, as removing a mouth guard on track will earn you a kit violation penalty.
Bum Savers
If your just starting to learn to skate and feeling nervous about falling over, bum savers will help boost your confidence. There are several variations on the market but they all have the same idea of protecting your hips and coccyx. These are totally optional and down the individual skater. And dont feel embarrassed, a bruised coccyx is no fun, we can sure tell you that!